North Bay Shot Movie Happy F'k'in Sunshine heading to Hollywood.
Other Animal Productions came to North Bay in the fall of 2019 to shoot a film. Given the history of filming in the region for the previous years, the event would be unremarkable – just another movie bringing some economic benefit to North Bay.
But this movie was different – Other Animals wasn't just bringing the bulk of their cast and crew from southern Ontario – rather, they embraced local content in a way never seen on a production in Northern Ontario.
The entire cast of young lead performers (Matt Close, Mattea Brotherton, Connor Rueter, Dana Hodgson, and Maxime Lauzon) were graduates of Canadore College's acting program or Digital cinematography Program. They were further supported by veteran Northern actors (Jim Calarco, Carrie Schiffler, Lewis Hodgson, and Lisa Boivin)  Only three actors were from away – Ted Dykstra, Ash Catherwood and Wes Williams (Maestro Fresh Wes).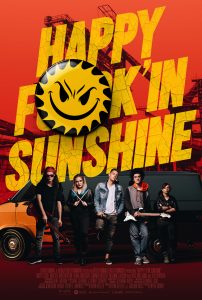 On the other side of the camera a handful of seasoned professionals – Director, Derek Diorio, Director of Photography Clement Lush, Production Designer Stephanie Avery, Sound Mixer Don Delorme, Set dresser Jennifer Ritchie and locations manager Georgia Villeneuve – were ably supported by Canadore graduates and that year's digital cinematography cohort.
As Ryan Keller, Other Animal Producer describes it "We were an independent film shooting in North Bay that was able to leverage a lot of the college's resources by hiring graduates, renting facilities at competitive rates, and creating mentorship opportunities for students to help build up the cast and crew base in the north. By doing that we were able to achieve amazing production value on a reasonable budget".
The film's release was delayed by two years because of COVID – On June 10th, 2022 the film will finally get its world premiere and is the opening night film for Dance's with Film (danceswithfilms.com) at the TCL Chinese Theatres on Hollywood Boulevard.
"We couldn't figure out how to build a top-level ensemble cast at this budget until we connected with Derek Diorio and Canadore college.
And all the work you've done with the cast before and during production got them to these spectacular debut performances."
News Scene Magazine Review here.
Check out the trailer below!