Early Career, Improv, and Sketch Comedy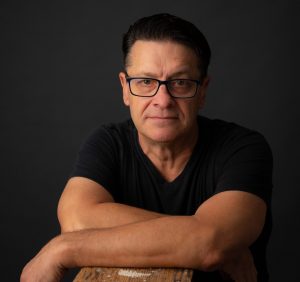 Derek Diorio is a North Bay Ontario based writer, director, and producer.
Between 1979 and 1999 Derek Diorio co-founded Sound Venture Productions, the Ottawa Improv League, the Skit Row comedy troupe, the Skit Row Comedy Club, the Creative Block, Diorio Productions, and Distinct Features. He started his career as an award-winning radio advertising copywriter and moved on to co-write with Dan Lalande and Rick Jones for several Ottawa-based television series and specials (You Can't Do That on Television, The Raccoons, Skit Row). In the eighties he produced, performed, and promoted several live stage productions with Skit Row in both the Theatre and Studio of the National Arts Centre while simultaneously developing a corporate video business. In the nineties, he started directing television shows for the then nascent Canadian specialty channels.
Feature Films and Indie Films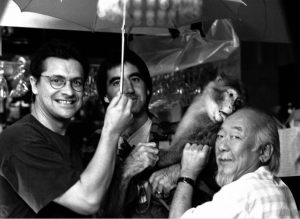 Since 1997, he has worked to develop emerging writers, art directors, cinematographers, and crew, culminating with the production of Ottawa's first feature film, Two's a Mob in 1997. In 1999, he directed and co-produced House of Luk starring Pat Morita (The Karate Kid) and Michael Moriarty (Law & Order).
In 2000, he created a micro studio that produced 3 indie features – A Taste of Jupiter, Punch & Judy, and The Kiss of Debt, which employed over a hundred Ottawa actors and starred Patrick McKenna, Eli Wallach, Teri Garr, Graham Greene, and Ernest Borgnine. 
Comedy and Dramedy Series
From 2002-2011 he directed over 120 half-hours for TFO and Radio-Canada comedy series Ottawa Technically Funny for the NewRO and the dramedy Mann to Mann for BRAVO.
Documentary Work
In 2009, he wrote and produced The Quantum Tamers: Revealing Our Weird and Wired Future, an innovative documentary on Quantum Physics featuring, among others, Stephen Hawking. The Quantum Tamers won the Prix Audace, 2009 Pariscience International Science Film Festival in Paris, France.
Cannibal Comedy
In 2012, he was an Executive Producer on the New Zealand Cannibal comedy feature film, Fresh Meat.
Television & Recent Works
Since 2007 he has been working in Northern Ontario on several French language television
shows, including Météo+ (2008-2011) and Les Bleus de Ramville (2012-2013).

He is also the co-creator, co-writer, director, and Executive Producer of TVO's flagship dramatic series Hard Rock Medical (2013-2018), co-created with Smith Corindia. Hard Rock Medical has also been
broadcast on APTN since 2013.
In 2018 he was an Executive Producer of Jocelyn Forgue's Christmas Film Noël en Boîte.
In 2019 he directed Happy F'ck'n Sunshine for Other Animal.
In 2021 he co-wrote and co-directed 10 half hours with Jennifer Podemski of the inaugural season of Unsettled for TVO/APTN.
Since the turn of the century, he has worked with several indigenous filmmakers, actors, writers and producers, including Steve Martin (no not that Steve Martin), Stephen McGregor, Andrea Menard, and Jennifer Podemski with a focus on aboriginal character story development in consultation with First Nations' elders and community members.
Derek forged relationships with Nipissing First Nation and filmed on reserve for seasons 3 and 4 of Hard Rock Medical. Chief Marianna Couchie observed that Nipissing First Nation moved ahead with the partnership with Hard Rock Medical because they were "impressed not only by the quality of [Derek's] previous works but also with his commitment to producing [Hard Rock Medical] in an inclusive and culturally-sensitive manner – while supporting local talent and resources that are available in [their] community."
Awards and Honours
His work as a copywriter, producer, director, writer, and performer has earned him many international awards, including CLIO, RBC, and Marketing awards in Advertising, a Banff Television Festival Award, and a Cable Ace Award with Patrick Granleese for The Railway Dragon, and two Gemini award nominations in Canada. In November 2007, he was inducted into the Algonquin Media Hall of Fame. In January 2008, he was presented with ACTRA's Lorraine Ansell Award of Excellence for his outstanding contribution to the Ottawa film and television community.
Mentorships and Work With Canadore College
Derek's commitment to the growth of the Northern Ontario film industry is evidenced in the ongoing mentorships with the Digital Cinema and Broadcast students of Canadore College.